Beskrivning
 The Travel Mast: a compact lightweight telescopic mast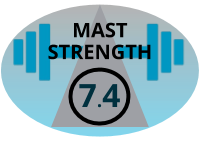 ***IMPORTANT NOTE: IF USING THIS MAST WITH A BAND HOPPER ANTENNA WE RECOMMEND ATTACHING THE ANTENNA NO HIGHER THAN 6 METRES (20FT) UP THE MAST (top of section 11 – counted from base/outer section)***
This is our 10m (33ft) Travel Mast. With a transport-length of only 67cm ( 26.5 inches ) it fits in a suitcase making it perfect for vacation DXing. 
Detailed Specification
Extended length: 10 metres (32 ft). Lengths approximate
Packed length: 67 cm (26.4 inches)
Number of sections: 17
Wall thickness: 1.5 mm (0.06 inches) bottom, 0.67 mm (0.03 inches) top
Weight: 1.3 kg (2.9 lbs)
Mast Material: glass-fiber composite (non-conducting)
Tube diameter: top 3.9mm (0.15 inches) base 49 mm (1.9 inches)
Base cap diameter: 55 mm (2.2 inches)
Tube colour: Light grey
Mast sections hollow to the top
Supplied with black carry bag with tie
FAQ
Replacement sections are available.
The mast is made of Glass Reinforced Plastic (GRP) = Fiberglass. This is an insulator with excellent RF properties (very low loss).
Friction lock: pull each section firmly with a twisting motion for best lock. When erecting always start with the smallest section. When taking down always start with the largest section.
Top sections may be removed by unscrewing the endcap at the bottom of the mast.